Freeride
December to Mai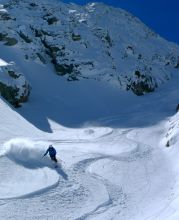 Verbier welcomes you to the world of off-piste skiing. Ski the long and challenging slopes of the well known 4Vallées or experience the awesome slopes in the nearby regions of Chamonix (France) or Valle d'Aosta (Italy).
Verbier, 4 Vallées, St-Bernard, Bruson, Champex, Les Marécottes, Ovronnaz...
Chamonix, Argentières, Val d'Aoste...
Heliski
January to May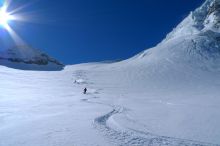 Take a Helicopter into the remote high mountain peaks for the ski adventure of your dreams. Descend theGlaciers covered with fine virgin snow or choose any of the pristine peaks in this vast region. Arrange a group of your friends to accompany you on a flight from either Verbier, Arolla, Zermatt or Lötschental.
Petit-Combin, Plateau du Trient, Rosablanche, Pigne d'Arolla, Wildhorn, Petersgrat, Ebenefluh, Mont-Rose...
Ski touring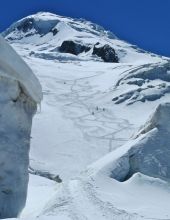 December to April
From the ski lifts throughout the region, a further 1 to 2 hours of skinning gives you access to the most delightful ski runs many of which are known only to the Professional Guides.
Verbier, St-Bernard, Val Ferret, Champex, Les Marécottes, Ovronnaz, Val d'Aoste, Chamonix...
April & May
If you fancy something more extensive why not experience a few days travelling one of the Haute-Routes across the high mountain country.
Chamonix-Zermatt, Grand Paradis, Oberland bernois, Vanoise, Bernina, Silvretta, Adamello, Ortler...
May & June
You can finish your ski season with one of the grand classics, Grand Combin, Mont Rose or the Mont Blanc as these beautiful mountains (often referred to as Himalayan 4000) are able to be skied in spring.
Mont Blanc, Grand-Combin, Mont Rose...
Steep skiing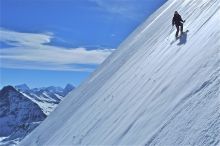 March to June
If you are an accomplished and experienced skier wanting the challenge of the steepest slopes the mountains have to offer then this is for you. Olivier will guide you down the most awesome of runs which will expose you to the incredible beauty and serenity of this wonderland of nature.
Face Nord du Petit-Combin, Couloirs du Val d'Arpette, Couloir Barbey, Couloirs du Vélan, Face Nord de Vouasson, Couloirs de la Tsa, Couloirs des Dents du Midi...
Les Marbrées, Glacier de la Brenva, Glacier Rond, Couloir Marinelli...