Giants of the Alps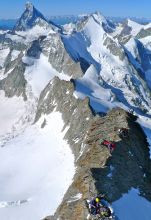 July to October
Just under 4000 meters, these peaks possess a rare elegance which makes them a must for the serious alpinist.
Mont Dolent, Aiguille du Chardonnet, Aiguille d'Argentière...
Eiger, Piz Roseg, Piz Palü...
The very highest of the Alpine region, above 4000 meters, provide many exciting alternative routes. From the normal through to the narrow ridges which are worthy targets for the most dedicated of climbers. Experience these options on the best of all.
Grand Combin, Mont Blanc, Cervin, Dent Blanche, Dent d'Hérens, Zinalrothorn, Obergabelhorn, Weisshorn, Jungfrau, Mönch...
Mont Blanc, Aiguille de Bionassay, Dent du Géant, Piz Bernina...
Grand mountaineering routes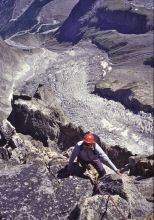 July & August
Climbing a prestigious mountaineering route requires experienced route finding skills and sometimes a bivouac can be necessary. Accompanied by an experienced guide with local knowledge can make that climb you have always dreamed about a reality.
Pilier du Frêney on Mont-Blanc, Eperon Tournier on Droites, Eperon Walker on Grandes Jorasses, Aig. Noire de Peuterey South Ridge, Pilier Gervasutti onTacul...
Badile North Face, Cima Grande North Face ...
The Nose on El Capitan...
Goulottes
February to June
Take advantage of the conditions in winter and spring to climb some incredible ice gullies impracticable during the summer.
Face Nord des Courtes, Face Nord des Droites, Couloir Couturier à la Verte...
Goulottes Chéré, Gabarrou, Petit-Vicking, Goulottes du Chardonnet...
Expeditions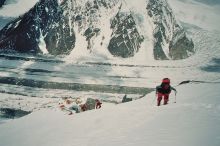 All year round
Why not consider the highest mountains around the world as your next adventure? Would you like to climb a peak of 6000, 7000 or even 8000m?
Olivier has the experience and knowledge of these places and others, gained during his numerous expeditions. He knows the best of local agencies and staff which protect your safety and provide the optimum conditions to make your climb successful. You select the venue and bring your similarly motivated travelling companions. Olivier will then conduct you on a personally prepared and guided adventure that few are privileged or fortunate to enjoy. This could be the trip of your lifetime!
Kilimandjaro, Island Peak, Ama Dablam, Aconcagua, Mustagh Ata...
Mera Peak, Shisha Pangma, Cho Oyu, Broad Peak...